True to their name, tunnel tents feature a semi-cylindrical body that's curved at the top and elongated. They aren't as common in the USA, though they are fairly popular in Europe. However, there are plenty of situations where these tents can come handy in America as well.
Taking along a tunnel tent for camping is best suited for a relatively cool and wet climate. If you find yourself in such campgrounds often, it might be worth your while to invest in tunnel tents.
Top Tunnel Tents To Put On Your Shortlist
Tunnel Tents For Toddlers
The tiny tunnel tents for toddlers are designed to be small playhouses. They're stimulating, entertaining, and fun. You can always add more accessories to make all of this more fun for the child.
Editor's Choice: Jack Wolfskin Travel Lodge FR
Invariably, the first thing you notice about this tent is its price. This is an expensive tent. But then it is also an impressive tent. The modular design of the Jack Wolfskin Travel Lodge FR lets you adjust the tent and even how you pitch it. The tent is quite comfortable and livable, while also offering excellent protection from the elements.
Top Tunnel Tents Reviewed And Discussed
1. Coleman Tunnel Tent Rocky Mountain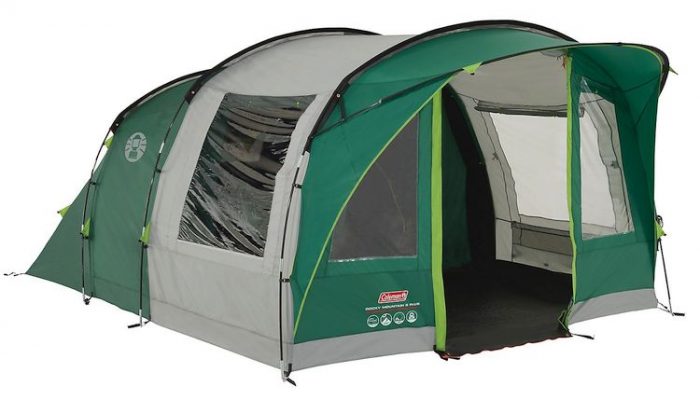 So here's the Coleman Tunnel Tent Rocky Mountain. Interestingly, though this tent bears the name of the famous American mountain range, Coleman doesn't sell it directly in the USA. Like most other tunnel tents, you'll have to import this one from Europe.
It's a pity that this tent isn't widely available in the US, considering it's a remarkably good tent with tons of excellent features. This is one of the most remarkably 5 person tents available. It's feature-rich, sturdy, and comfortable.
You enter the tent through a large living room. This room has a huge door for the tent and large PVC-covered windows. This setting makes it well-receptive to daylight and air, which does credit to the living space. At the other end of the living room is the main room, or sleeping room.
The tent roof tapers over the sleeping room, however, the center height at the door remains comfortable. If you feel like it, you can divide the sleeping room into two for added privacy. To aid in better sleep, the sleeping room is covered in black, so the Coleman Rocky Tunnel tent behaves as a blackout tent.
Pros
Sleeping area is a blackout tent
Large, comfortable living room
Sleeping area can be divided into two rooms, effectively making this a three=person tent
Excellent waterproofing (rated 4500mm HH)
SPF 50 protection
Cons
Has some trouble with airflow and ventilation
The bedroom can feel too small
2. Jack Wolfskin Travel Lodge FR

Our top choice for this category is the rather impressive Jack Wolfskin Travel Lodge FR. This is an expensive tent, but when in use, it becomes apparent that this is well worth the price. Travel Lodge FR is a 5-7 person modular tent that can be used in several ways.
Specifically, this is a four-room tent with three doors. This allows some privacy and free movement to the rooms in the tent. Since this is a modular build, you can choose to remove a room or partly detach another one to serve your specific purposes.
This spacious four-season tent can be easily adjusted to answer to your whims and wishes. The groundsheet is attached to the rainfly, but remains removable. Tent floor for the interiors is sewn in and cannot be removed.
Jack Wolfskin Travel Lodge FR offers excellent protection from the wind and the rain. It remains largely unperturbed through rough weather and its rating of 4500mm HH ensures there's no risk of water finding its way inside the tent.
The tent is available in European and US models. They're pretty much the same, except the US version has a fire-retardant coating.
Pros
Modular four room tent with removable and modifiable rooms
Excellent weatherproofing
Spacious and livable
Has three large doors and windows
Center height 74.8-inches, and area of 183 sq. ft.
Four season tent
Cons
Expensive
Can be slightly troublesome to set up, especially for new users
3. Vango Waterproof Odyssey 800 Tunnel Tent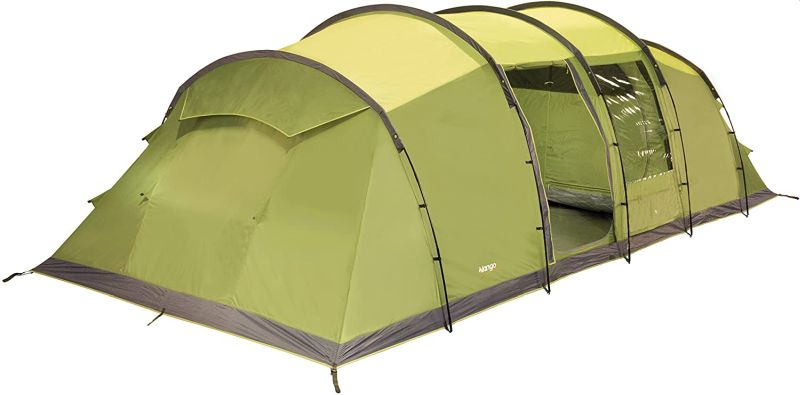 Vango is a well-trusted name, and the quality and features of this tend to do it justice. The well-made tunnel tent has a classic look and will gladly take on rain and wind without troubling inhabitants of the tent.
Its living room is located in the center of the tent. A large door and clear plastic windows let the air in, and keeps the tent bright and fun. The large Odyssey 800 is a very large comfortable tent and can function as an 8-person tent.
However, if you do that, this spacious tent will end up feeling cramped and useless. This is best used for about four people. Other notable features of the tent include a sewn-in groundsheet and Vango Tension Band System (TBS II).
Pros
Spacious 3-season tent
Excellent waterproofing (4000mm HH)
Sewn-in groundsheet
Vango Tension Band System provides greater protection against the wind
Cons
Slightly heavy
One of the doors doesn't have mesh
4. NTK Arizona GT 9 to 10 Person Tent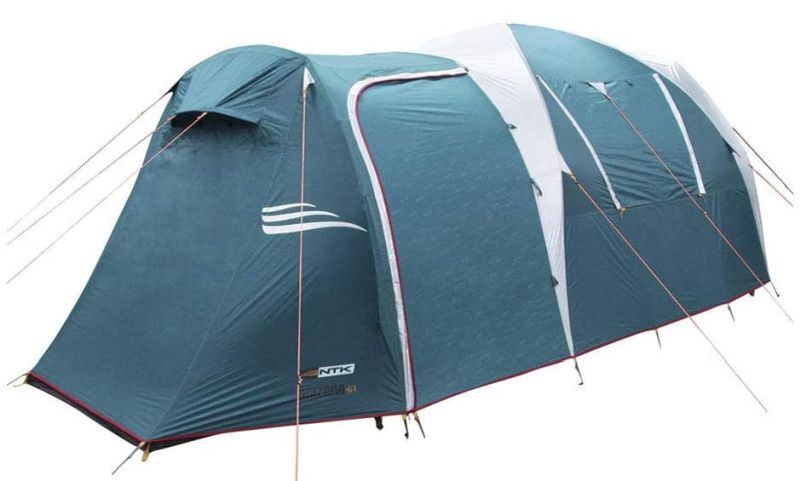 NTK Arizona GT 9 to 10 Person Tent is a big sports camping tent. It slightly deviates from the tunnel shape, but its general characteristics remain quite similar. The spacious tent can be divided into two rooms, each with its own door. A total of three windows dot the tent, so there's plenty of ventilation to go around.
The inner tent has quite an open construction with windows being prominently featured. However, once you put the 190T rainfly on, the tent takes a more conventional and somewhat robust shape. Put the window and door flaps on the rainfly in order, and the tent is fairly well-prepared to deal with inclement weather.
The tent floor has a silver coat that helps maintain the temperature inside the tent. That said, this remains a 3-season tent. All windows and doors are covered in mesh to keep insects out. Interestingly, the rainfly flaps on the windows and doors are managed from outside the tent, which makes it quite troublesome and questionable where privacy is concerned.
Pros
Large 9-10 person tent
Good waterproofing (2500mm HH)
Comfortable center height of 6'2"
Cons
Window flaps on the rainfly are managed from outside the tent
5. Hasika Family Camping Tunnel Tent Top Canopy Cover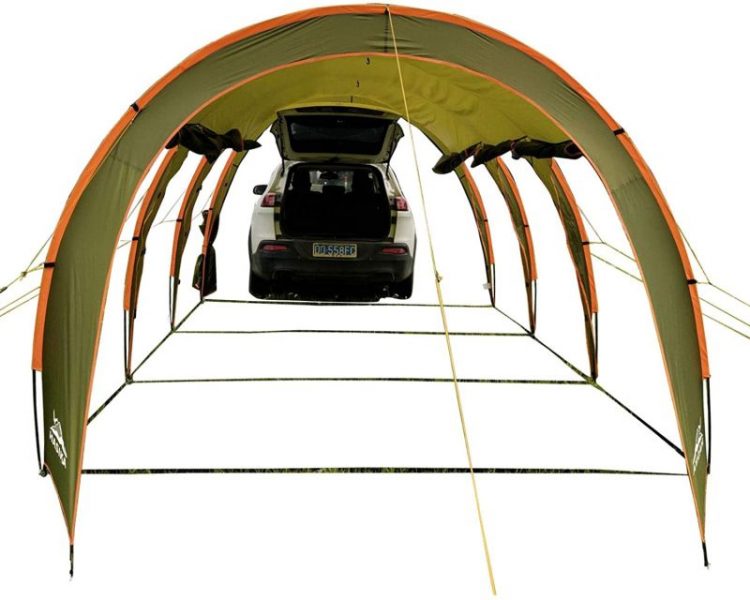 Hasika Family Camping Tunnel Tent Top Canopy Cover does its job pretty well. Keep in mind though, this isn't supposed to work as a full-fledged tent. Instead, it's a tunnel-style canopy that you could take around for use as a shelter. Or, use the canopy with a vehicle to form a nice covered area.
One end of the canopy is closed, while the other remains open. The sides have three large door-style openings, which can be set aside when you want the canopy to be airy. Its polyester fabric is pretty good and holds up very well.
At about 18 lbs, this is a lightweight tent, but it isn't really meant to be set up by one person. You could do it, but that's way too much work.
Pros
Lightweight tunnel tent canopy
Well-priced
Cons
Not fit for single-person set up
Questionable longevity
6. Ozark Trail 8-Person Dome Tunnel Tent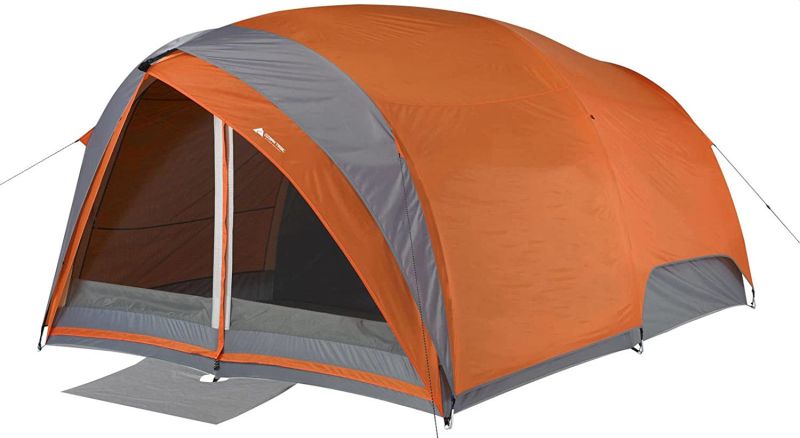 Ozark Trail 8-Person Dome Tunnel Tent is perhaps more dome than tunnel, but hey, it fits in quite well! It's covered in a full-coverage rainfly that provides excellent protection against the wind and rain. Ozark Trail Tunnel Tent has a large door that leads to a smaller, dome-style living room.
In effect, this is best suited as a four-person, 2-room tent. Though, of course, you could cram eight people in there. You can also use the roll back rainfly to uncover the living room, thus converting this into a tent with screen room.
Overall dimensions of the tent are 13×9 feet. Add to that the center height of 78-inches, and you have a very comfortable tent where you can walk around without stooping. Well, since this is a tunnel-style tent, the sides taper pretty quickly, but there is room to move around even for tall people.
Pros
Attractive pricing
Roll-back rainfly creates a screen room
Adequate protection against wind and rain
Cons
Tent poles are flimsy, thus the longevity is questionable
7. Vango Ringstead Air Adult Mixed Inflatable Tent – 400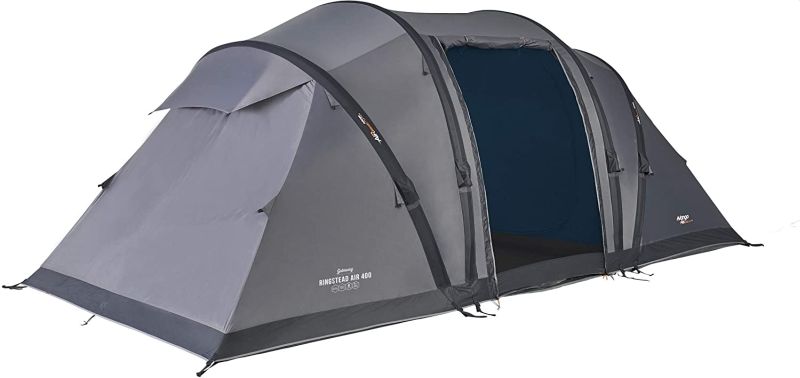 A small tunnel style tent, this deserves special attention because of its lightweight and easy setup. This is an airframe tent, which relies on air to inflate the poles and keep them in position. A double-action pump is included with the tent to ensure it goes up quickly and stays upright.
Vango Ringstead Air Adult Mixed Inflatable Tent – 400 is a four-person tent. A single exit door is located at the center of the tent. Once you enter, there's a bedroom on either side, each capable of holding two people.
The tent has a fully sewn-in groundsheet and a top-quality fabric that's rated for 3,000 mm HH. Overall, the weatherproofing is excellent, and you won't have to worry much about this tent in rain or strong winds. Besides, due to its airframe construction, it is relatively easy to move around. But of course, there's the added weight of an air pump to bring along.
Pros
Airframe tent
Spacious tent – 3 rooms, including 2 bedrooms
Fully sewn-in groundsheet
High-quality fabric rated for 3000mm HH
Cons
Quite expensive compared to conventional four-person tents
8. Coleman Waterproof Tasman Unisex Outdoor Tunnel Tent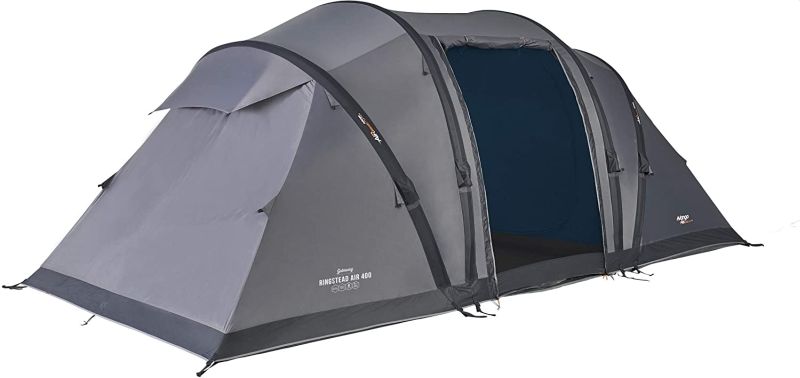 Another offering from Coleman, the Tasman is a small tent suited for three people. It takes the same construction cues as other tunnel models, where a living room leads to the bedroom. The living room here is pretty much open space. All of its three sides that are exposed to the outside show a door each.
Mosquito nets are included for the sleeping area, so it remains comfortable even if you leave the outer room open. A thick and robust groundsheet covers the base of the tent. Meanwhile, the tent fabric is impressive too, and capable of handling tough winds and rain.
Pros
Spacious, well-made tent
Mosquito cover for the bedroom
Rainproof and windproof
Cons
Overall fabric quality could have been better
Toddler Tents: Playful Tunnel Tents For Kids
1. UTEX 3 in 1 Pop Up Play Tent with Tunnel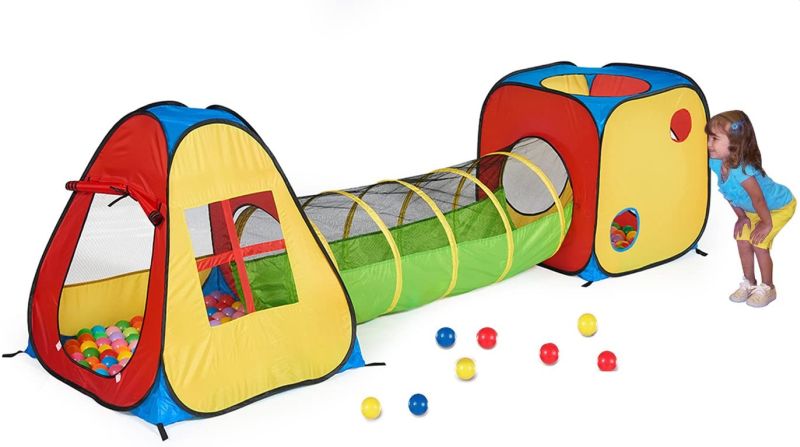 Here's a toddler tent and ball pit that kids will absolutely love. There are two rooms in this tent and both have colorful and cheery prints on them. One of these is designed like a dice, while the other is something of a pyramid. A tunnel connects both these "structures".
The pyramid and dice are built to provide hours of fun, as children play around and go from one room to another. The tunnel forms a comfortable place for crawling, though it remains open so you can observe the children while playing and they have a view of their surroundings.
Both these rooms can be filled with some playful balls to make miniature ball pits that children will love. They've used a sturdy 190T polyester taffeta to build this tent. It's a good choice, since the tent is going to take some serious wear&tear with kids playing.
Tent Highlights
Made from high-quality 198T polyester
Includes two rooms and a fun tunnel to move around
2. Kiddey Caterpillar Play Tunnel and Tent Combo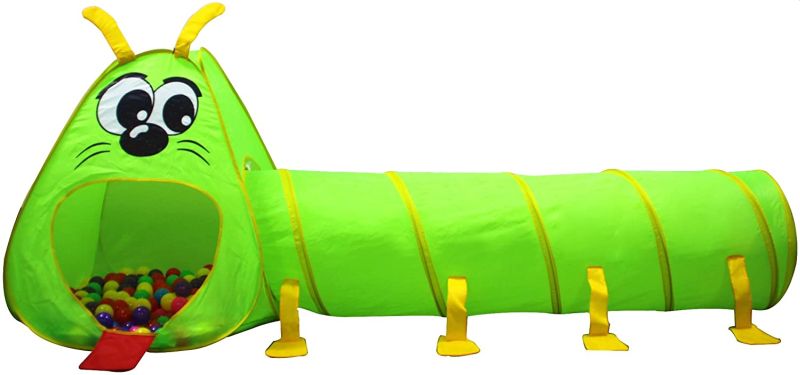 As fun tents go, this caterpillar has its bases covered. The entrance to the tent is through the cheerful mouth of the caterpillar. On closer inspection, the mouth of the caterpillar looks like a small and painted pop up changing tent. A happy coincidence, I'm sure.
The entrance is slightly elevated, so the mouth of the caterpillar can hold a few layers of balls for games. As you move towards the side, the body of the caterpillar shows up. It's a fun tunnel that children can use to exit the caterpillar.
Tent Highlights
Easy to set up pop up design
Fun to play
A Buying Guide — Things To Know When Buying A Tunnel Tent
They're Excellent Against Wind And Rain
Tunnel tents have excellent performance against wind and rain. Their shape puts them at low-resistance against the wind, thus giving these tents a leg. Due to this, they can stay standing even in strong winds.
The same shape also helps with waterproofing. Since the rainfly can be continuous, there are no points for water to pool. Besides, the tunnel shape actively pushes the water and forces it towards the ground.
Tunnel tents for camping are essentially enclosed structures. This puts them at an advantage against the weather and gives these tents higher resistance against the wind and the rain.
The Cost To Pay Is Ventilation
Being enclosed structures, tunnel tents don't really have features like a mesh roof or multiple windows to handle airflow. This makes these tents suitable for a specific weather condition.
Generally, tunnel tents are best suited in relatively cooler and wetter weather.
This is one reason they're so popular in Europe, but have limited uses in the USA. There are some campgrounds suitable for tunnel tents in the USA as well. If you often find yourself in a campground that matches these
If you take it to unsuitable climates, prepare to deal with a number of weird and uncomfortable situations. For one, the lack of ventilation will quickly make this tent feel warm and uncomfortable. There's also a greater risk of condensation and general discomfort.
Other Factors And Features Of Note
Most tunnel tents are built with multiple rooms. You'll often find two rooms, though three and four room configurations aren't all that rare either. It's nice to have several room options, but be careful with what you pick. It's also a good idea to examine the sleeping room to see if it is comfortable and spacious enough.
Though it isn't a default feature, many tents have blackout features for the sleeping room(s). This may include a fabric layer or darker coloring, but in any case, you get a better chance of dozing off undisturbed. Now that's something to look forward to!
Tunnel tents are rarely freestanding. You'll have to make it a point to secure the tent using guylines, so it stays strong in the face of wind. That's rarely a problem, but do make sure that you properly secure the tent.
Finally, there's something to note about the price too! As we know, these tents are more popular in Europe and thus make a good chunk of options there. On websites like Amazon, you might be directed to a seller from Europe. In such cases, look closely and be careful beyond the listed price. Take a closer look at the shipping and any possible import duties.
Making A Tunnel Tent Choice
Getting tunnel tents for camping is a good idea in relatively cooler environments. These tents are enclosed structures that offer excellent protection against wind and rain. They're also quite comfortable and spacious – often with multiple rooms. Take a careful look and pick the one that suits you best.
My top choice for this category is the Jack Wolfskin Travel Lodge FR. It is somewhat expensive, but it remains dependable. Plus, its modular features add great value and flexibility.