Quality cots for a camping vacation are great for comfort. We're often fine with air mattresses or sleeping bags, but sometimes, it's good to get some distance from the ground! Getting good camping cots make that possible.
The next thing is the element of portability. Sure, car camping makes the weight of the cot less of a concern, but foldability makes things better. Foldable camping cots take care of that problem.
To be clear, practically all camping cots give attention to portability. Foldable cots represent the genre of "no assembly required". When needed, users can simply lay out these cots and have it ready. Other cots or collapsible cots might need some assembly – as in placing the fabric and frame together.
Now that we've got the basics, let's see the best of fold up cot options to pick for a day out at camp.
Editor's Choice: Coleman ComfortSmart Cot
Portable and comfortable, Coleman ComfortSmart Cot is an easy choice for foldable cots. The cot is topped by a thick layer of foam for the sake of added comfort. It's sturdy and pretty much feels like a bed.
Top Foldable Camping Cots Reviewed
1. REDCAMP Folding Camping Cots
Simple, lightweight, and comfortable, REDCAMP Folding Camping Cots deserve attention. When fully unfolded, the cot curves towards the top for head support, keeping an eye on comfort. The fabric used here is 600D Double Oxford, which wraps a steel frame with 10 legs.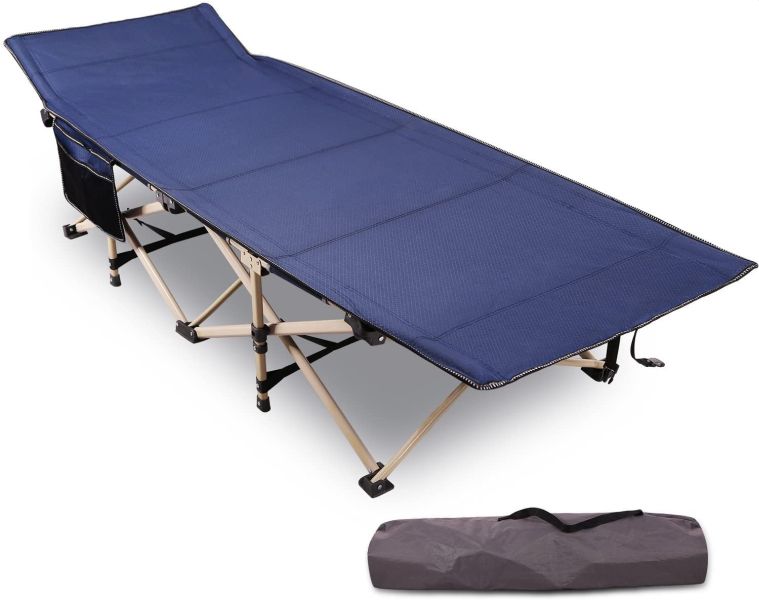 The legs keep it stable and help distribute weight evenly over the fabric. As a folding camping cot, this doesn't need any assembly. All you have to do is get it out of its package and just unwrap it. Folding it back is similarly easier, though putting it back in the included bag can be something of a hassle.
What I don't like here is the oversell. The seller claims that the cot can handle up to 500 lbs of maximum weight. Practically, I wonder if even 200 lbs is pushing it. For those who are closer to the top limit of the cot, the fabric begins to sag after a few uses.
Unfolded dimensions for this cot are 75″x28″x15″. That's basically standard, and should be comfortable enough for most people. Though there is still a chance of feeling the support side poles when you lay on this cot. The cot weighs 17 lbs.
Pros
Good value for money
Easy to fold and pack away
Fairly comfortable
Cons
Practical weight limit is way below the listed maximum of 500 lbs
Gets creaky and noisy every time you move on the cot
2. Coleman ComfortSmart Cot
Our top choice for this category is this remarkable camping cot from Coleman. An oft-repeated complaint from camping/outdoor enthusiasts is that Coleman no longer makes things "like they used to." Well, this cot is pretty much a representative of the classic, dependable, Coleman.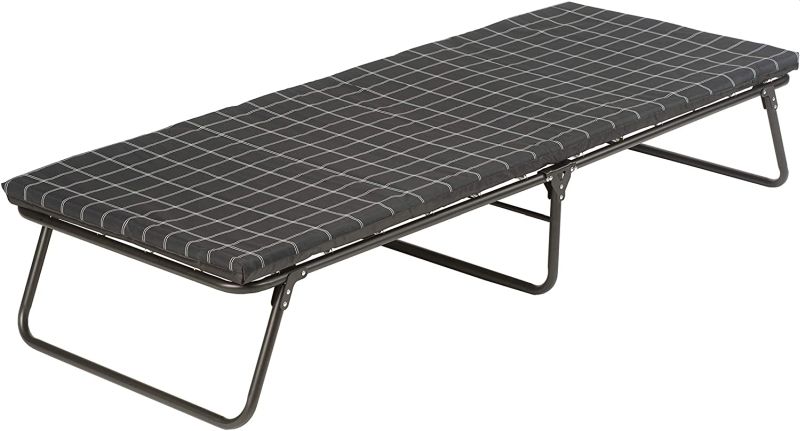 Coleman ComfortSmart Cot is sturdy, comfortable, and feels near close to being a real bed. A durable steel frame with well-placed joints ensures that the cot is sturdy. The fabric is attached to the frame using springs, which allow it to be flexible, without getting saggy.
I think these springs make a positive impact on comfort as compared to other options. It's natural to have some doubts about the longevity of these springs, but there is nothing to suggest that those doubts are well-founded.
A thick foam pad sits on the cot for added comfort. You could replace this with your choice of mattress. The suggested weight limit for Coleman ComfortSmart Cot is 300 lbs. It is available in two variants: deluxe and regular.
The deluxe cot has dimensions at 80x30x15 inches and weighs 21.5 pounds. The regular cot is somewhat cheaper and has dimensions of 69x25x15. Its maximum suggested weight is 275 lbs, and it weighs 17.6 pounds.
Unless you have space or weight constraints, my suggestion is to pick the Coleman ComfortSmart Deluxe Cot.
Pros
Sturdy and reliable build
Very comfortable
Includes thick foam pad for sleeping
Great value for money
Available in deluxe and regular versions (differing size and max weight)
Cons
While the frame and springs aren't noisy, the fabric can be as the user moves on the cot
The mattress/sleeping pad can slide on the cot
3. Tough Outdoors Camping Cot for Adults
Tough Outdoors Camping Cot for Adults claims to "elevate your sleeping game." It tries to achieve this by being a dependable and comfortable sleeping cot. The 600D oxford canvas holds on to a steel frame, which is sturdy and well-made. Its use of a canvas-style fabric makes this camping cot a touch comfier.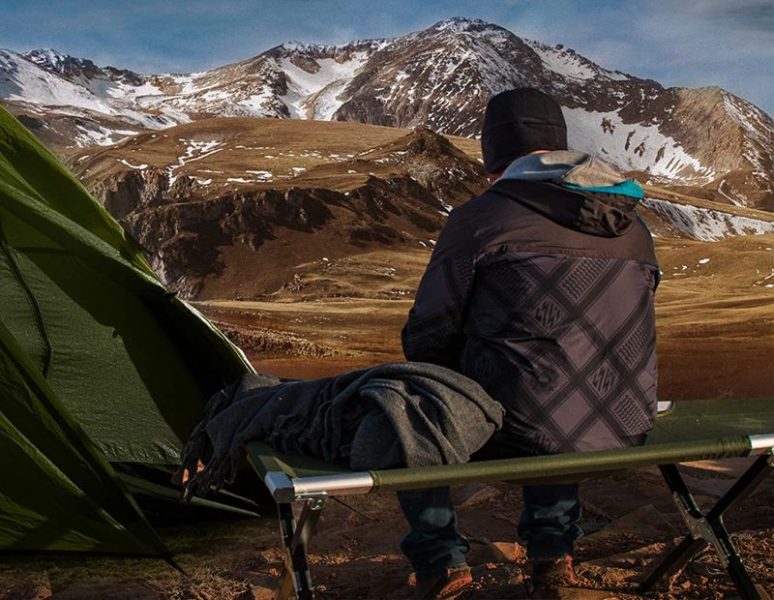 The XL version measures 83×32 inches, while the Large version is at 75×25. Both have a clearance of 16 inches from the ground. There's obviously a price difference as well, with the XL being slightly pricier.
Storage options come easy thanks to a bunch of pockets on the side. These pockets are available in several portable camping cots and definitely earn their keep. It's easy to keep your mobile phone, water bottle, and other accessories within easy reach thanks to these pockets.
Tough Outdoors Camping Cot folds down to remarkably compact dimensions of 7x5x42 and goes in easily into the included canvas carry bag. It can take a bit of trial and error before you get it right, so I suggest some practice before you take it camping.
The XL cot is rated for a maximum weight of 300 lbs. It weighs 18.1 lbs.
Pros
Comfortable, reliable canvas fabric
Steel frame
Folds down to compact dimensions
Pockets for storage
Cons
Needs some strength to fold and pack up
It's important to set up the cot and let it stay for 24-48 hours before use
4. OSAGE RIVER Folding Camping Cot
A lightweight camping cot with attractive pricing, OSAGE RIVER Folding Camping Cot is a good pick for the occasional camper. It is decently comfortable and gets a few touches for reliability. When open, the cot is 28×75 inches and sits at a height of 18.5 inches.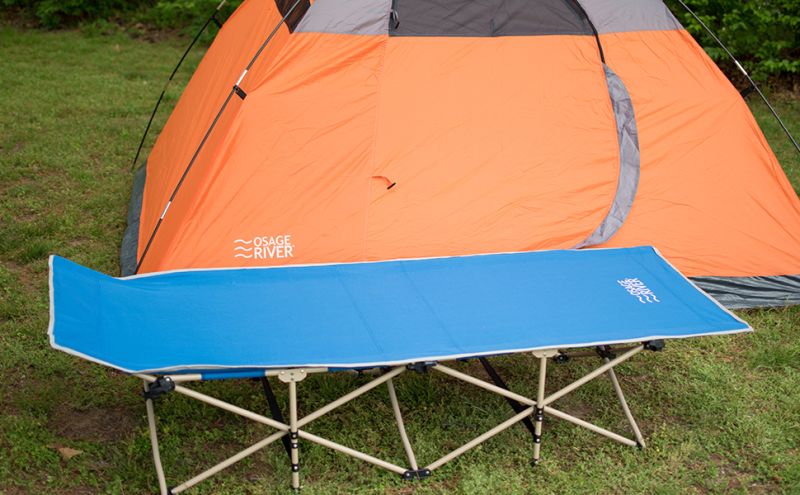 An elevated headrest is available at one end of the cot for greater comfort. Its construction is a carbon steel frame and 600D PVC coated polyester. It's fairly sturdy, though the practical weight is a bit below the claimed maximum of 300 lbs.
The cot is available in several colors and weighs 13 pounds. It's a straightforward cot that quietly does its job. Nothing overly remarkable about this cot; I consider that a win!
Pros
Attractive pricing
Available in several colors
Fairly good construction
Cons
Takes some effort to fold and pack away
See buying options and choices
5. BYER OF MAINE Easy Cot
Byer claims that its history of more than a century is proof of the company's dedication to quality. I'd agree with them for the most part, except that tacky full graphic on the carry bag. No one minds the company's logo or some decent graphics on the bag, but a full print isn't the flavor of the season!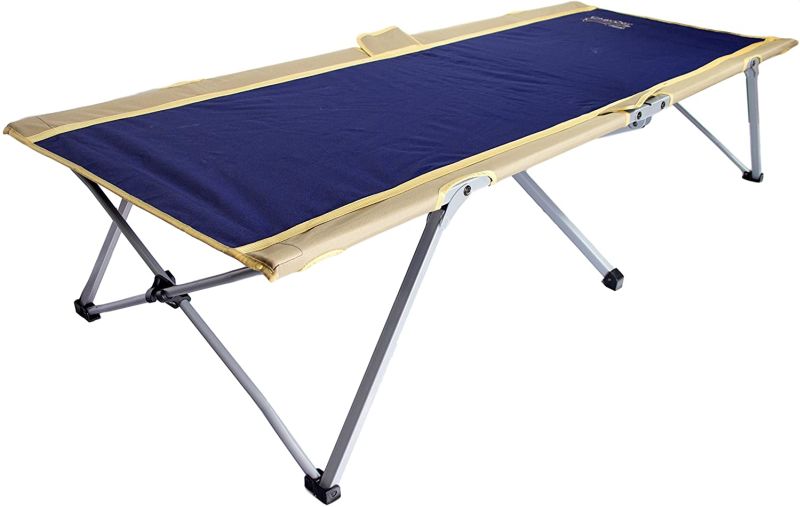 Let's not have the carry bag distract us from the cot, which happens to be a pretty good choice. It's even priced on the more expensive side of cots, so the cheap-ish packaging graphics are inexcusable. Anyways, the cot itself has pretty good features for a comfy cot.
It's tall and wide, going 78-inches in length and 31-inches wide. The available height is 18-inches. BYER OF MAINE Easy Cot has a sturdy steel frame and a 600D polyester five-panel reinforced fabric. The maximum weight capacity for this cot is 330 lbs.
Pros
Quality construction
Fairly convenient to set up and pack away
Wide, tall, and comfortable
Cons
Tacky graphics on the carry bag
6. Magshion Portable Military Fold Up Camping Bed Cot
Magshion Portable Military Fold Up Camping Bed Cot answers the need for a budget cot. The design and construction are acceptable, plus, you get to choose from a range of colors and patterns.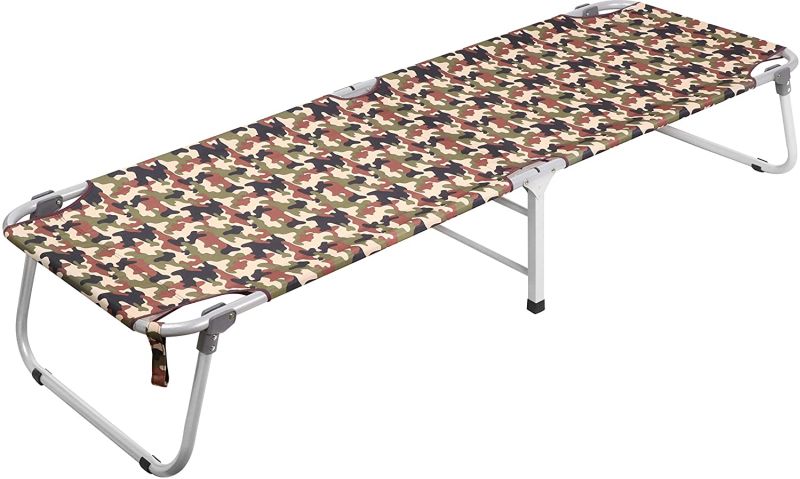 Theoretically, it uses the same basics as several other cots – a steel frame and oxford fabric. However, there is the element of cost-cutting involved and the longevity of this cot remains suspect. The max acceptable weight here is 195 lbs. The seller also mentions 300 lbs on the page, but I seriously doubt it. Heck, I'm not completely sold on 195 lbs either.
The dimensions here are 72×24.5 inches and height at 13.5 inches. The cot folds up nicely to fit into the included carry bag. Packed dimensions are 4.5″Hx24.5″Wx36″L.
Pros
Budget pick
Easy to set up and pack away
Available in several colors and patterns
Cons
7. Earth Ultimate Extra Strong Military Style Folding Camp Cots
Quality and comfort work in the favor of this foldable camp bed. It's slightly more expensive than your average cot, but the quality more than pays for itself. The steel tubing and frame look resilient and reliable, as does the 600D polyester fabric.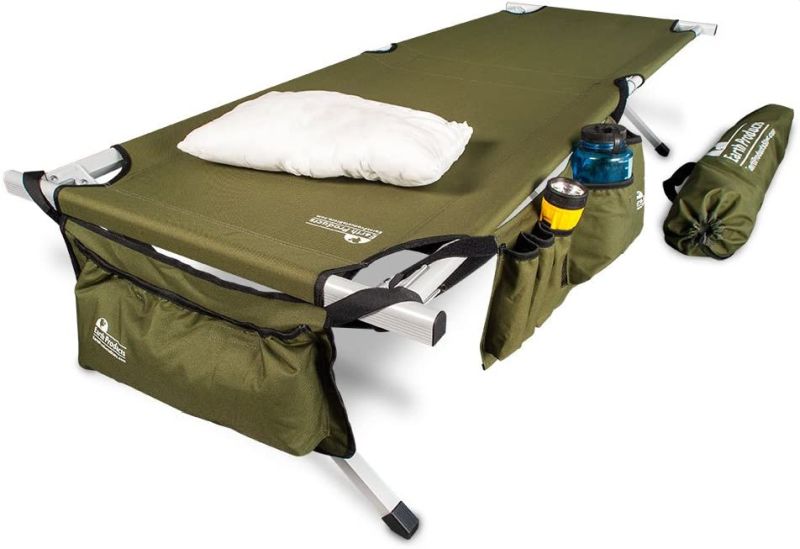 Velcro straps are included under the cot, so you can adjust the fabric tension to meet your specific needs. Several pockets adorn a side of this military-style cot and one large pocket on the top. There's plenty of storage here, enough to give some cot tents a run for their money. Of course, this cot doesn't work as a tent.
The dimensions for this cot are 77″Lx25″Wx17″H. It's acceptable, though I do wish it had a greater width. Staying at 25-inches with those prominent bars of the frame can affect comfort a bit. However, if you fit in right, the cot is divine in comfort!
It is rated for a maximum weight of 450 lbs and weighs just 17.5 lbs. The full package includes a carry bag and a mini pillow.
Pros
Excellent, robust construction
Dependable fabric that doesn't sag
Velcro straps for customized fabric tension
Several storage pockets available
At 450 lbs, this has one of the highest weight ratings for single camping cots
Cons
8. Coleman Camping Cot, Air Mattress, and Pump Combo (Queen Size)
Coleman's queen size camping cot is pretty much unbeatable in its category. Camping cots of this size are rare. And those that can take the brunt of camping are rarer still. The cot is true to size and includes an air mattress and pump.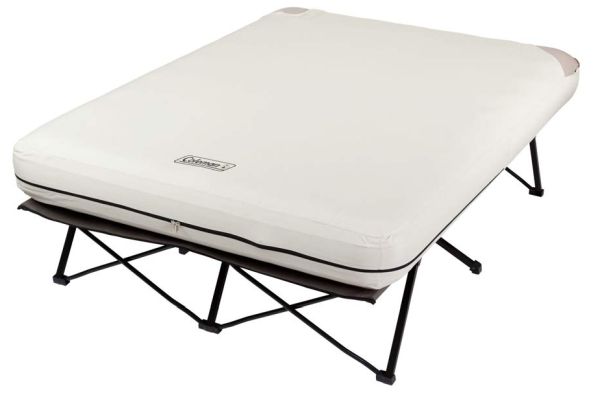 This is remarkably comfortable for a cot and could very much take on some beds as well. A reliable steel frame supports the cot and allows a maximum weight of 600 lbs. You could sleep on the cot without the mattress as well, but the supporting steel frame won't be nearly as comfortable.
Each side of the cot also has a side table with cup holders. The dimensions here are 78x59x22 inches. If you need a smaller size, the cot is also available in a twin size (double camping cot) variant.
Pros
Excellent value for money
Spacious and comfortable
Includes fold-away side tables
Available in queen and twin sizes
Cons
Heavy
Can pose problems in packing and portability
9. Timber Ridge Utility Folding XL Camping Cot
Timber Ridge Utility Folding XL Camping Cot is one of the dependable, comfortable cots. The XL size cot measures a convenient 83″x31″x20″. That's plenty of space and you can enjoy your cot in relative comfort. That isn't tall for a bed but might feel a bit tall for a cot. Especially, if you sit on the edge and wear your shoes.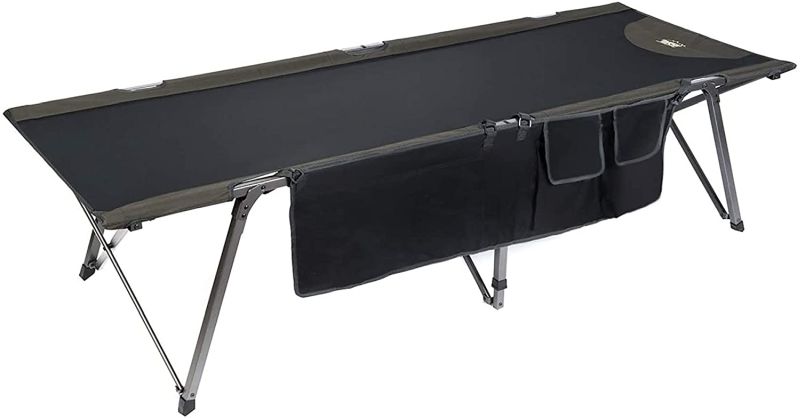 It's equally impressive that the larger cot packs down to dimensions of 40″x7"x5. 5″ and remains convenient and portable. To be fair, "portability" is relative. Being a large cot, this is also a heavy cot. The weight of the cot is 27.5 pounds.
The construction quality is impressive, showing off a 600D polyester fabric wrapped around a steel frame. This one's rated for a maximum weight of 300 lbs and looks very much capable of handling it conveniently. Several pockets are available on one side of the cot as a convenient storage option.
Pros
Excellent, wide cot
Comfortable
Quality construction
Includes side pockets for additional storage
Cons
10. Kamp-Rite Oversize Kwik Cot
A wide cot with an excellent record, Kamp-Rite Oversize Kwik Cot is excellent for comfort. The sleeping area here is 84×33 inches, which is the largest amongst single cots. Although it's as generous in height as well, hitting about 21 inches.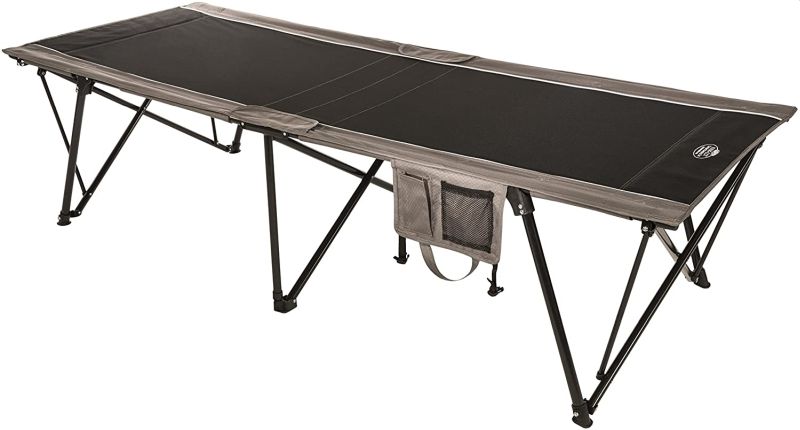 The reliable frame and fabric make it a fairly good pick for bigger and heavier people. This one has a maximum rated capacity of 350 lbs and does pretty much live up to it. Two small pockets are available at the side for the storage of your phone and similar small items.
Pros
Excellent construction
Wide and comfortable cot
Includes side pockets for storage
Cons
Things To Know Before You Buy A Foldable Camp Bed
No Assembly Required
There is no strict terminology to define your average folding camping cots. Pretty much every cot can be folded and packed away. The distinguishing element generally used for these cots is whether assembly is required.
If you can simply unfold the cot and use it, it's a classic folding cot. You won't have to put the frame and fabric together. The latter option tends to be more compact, lighter, and can even be suitable for backpackers.
However, the quick assembly and packing are the ease of use options that work great with folding cots.
Consider Materials For The Fabric And Frame
Better materials make better cots (duh!) A steel frame is generally advisable, though it can be heavier. Aluminum frames, while possible, aren't quite likely to hold up as well. Similarly, the fabric needs to be sturdy and reliable.
The most commonly used fabric is 600D polyester, though budget constraints might end up affecting the quality used. A quality, robust fabric is necessary because the cot is going to take your full weight.
A sagging cot fabric is nowhere near fun as a camping hammock, it's problematic. If the fabric starts sagging, it can become uncomfortable and cause backaches.
This includes the maximum weight recommendations as well. Most cots hover near 300 lbs. Take it to heart and try to use a cot that fits your needs. Where possible, you should leave a healthy gap between your weight and maximum limit. Pushing the cot to its max may not necessarily break it, but the fabric might start sagging.
Packaging And Dimensions
The length and width of the sleeping area can be big indicators of how well you sleep on the cot. The very basic dimensions for width are usually 24-inches. It's good enough but might not feel all that comfortable. It's practically the minimum required for an adult.
If your budget and the weight of the cot permit it, I'd say go beyond these dimensions. Some cots go well over 30 inches, so the available space is more generous. Put your comfort first. Similar considerations and logic apply to the length too. Though that depends more on your height.
Another factor is portability and packaging. Foldable cots don't pack down to the same dimensions as collapsible cots. Thankfully, many camping cots do take a more useful approach and can fold down to manageable dimensions.
Weight is a similar factor. Even if you're car camping, you'll have to carry the cot to and from your car. A manageable weight is more desirable. For larger cots, like the Coleman Queen Size Cot, carry bags with wheels that make moving the heavy cot easier make a big difference.
A Good Cot For A Good Night's Sleep
Getting a foldable camping cot is a convenient solution for car camping. They might not pack down to tiny dimensions, but they remain relatively easy and quick to set up and pack away. Prefer versatile and convenient options. I'd veer towards something that comes included with a mattress or sleeping pad.
In these foldable camping cot reviews, our top choice is the Coleman ComfortSmart Cot. It's reliable, comfortable, and does a great job at keeping things organized.